Rabbit Cake (Paperback)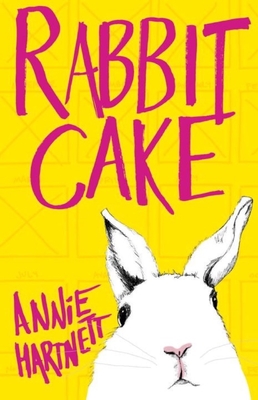 $16.95

Usually Ships in 1-5 Days
Description
---
People Magazine Book of the Week



A Best Book of the Year at Kirkus Reviews, Book Riot, The Chicago Review of Books, Minnesota Public Radio, and more



An Indies Introduce and Indie Next Pick



Fans of Maria Semple's Where'd You Go Bernadette and and Kevin Wilson's The Family Fang will delight in Annie Hartnett's debut, a darkly comic novel about a young girl named Elvis trying to figure out her place in a world without her mother.

Elvis Babbitt has a head for the facts: she knows science proves yellow is the happiest color, she knows a healthy male giraffe weighs about 3,000 pounds, and she knows that the naked mole rat is the longest living rodent. She knows she should plan to grieve her mother, who has recently drowned while sleepwalking, for exactly eighteen months. But there are things Elvis doesn't yet know—like how to keep her sister Lizzie from poisoning herself while sleep-eating or why her father has started wearing her mother's silk bathrobe around the house. Elvis investigates the strange circumstances of her mother's death and finds comfort, if not answers, in the people (and animals) of Freedom, Alabama. As hilarious a storyteller as she is heartbreakingly honest, Elvis is a truly original voice in this exploration of grief, family, and the endurance of humor after loss. 
About the Author
---
Annie Hartnett was the 2013-2014 winner of the Writer in Residence Fellowship for the Associates of the Boston Public Library and has received awards and honors from the Bread Loaf School of English, McSweeney's, and Indiana Review. Hartnett received her MFA in Fiction from the University of Alabama, an MA from Middlebury College's Bread Loaf School of English, and currently teaches at Grub Street, an independent writing center in Boston. She lives with her husband and their beloved Border Collie in Providence, Rhode Island.
Praise For…
---
[A] treasure. Books about grief are rarely funny and adorable—this one is.
— People Magazine

A brilliant book . . . How a whip-smart young girl handles the loss of her mother and the reorientation of her family; charming and beautifully written.

— Kirkus, Starred Review

In Hartnett's winning debut, a memorable young narrator's desire for rationality wrestles with her grief. . . . Affecting.
— Publishers Weekly, Starred Review

For your canon-coming-of-age-novel consideration: Meet Elvis Babbitt. A preteen whose mother recently drowned, Elvis is trying to understand the world around her. Funny and heartfelt, Rabbit Cake manages adult questions with a tween's sense of wonder. 

— Marie Claire

This is a truly terrific and original novel about grief, family, and finding hope in the aftermath.

— Booklist

Darkly funny and soulful . . . Hartnett imbues Elvis with that capacity to be both self-aware and childlike that places her in a tradition of independent minded, motherless heroines — from Scout in To Kill a Mockingbird, to the eponymous Ellen Foster, and Ruth from Housekeeping. . . . Rabbit Cake is Elvis's unpredictable story of healing, and the young woman at its center is immediately lovable because she is delightfully human.

— The Boston Globe

Hartnett tells the story with immeasurable heart, wit, and charm. The book's got perfect pitch from open to close.
— The Chicago Review of Books, Best Books of the Year

Irresistible...[the book is] both gentle exploration of loss (Elvis's mother, in the opening pages, has drowned) and quirkily funny coming-of-age tale, marking its Rhode Island-based author as a talent to watch.

— The Seattle Times

Elvis should be in contention for best narrator of
the year; her voice feels like a mix of Scout Finch and Harriet the Spy, pushed
to the edge by loneliness.
— Minnesota Public Radio, #1 Fiction Pick of 2017

This is the kind of book I try to resist as a noted curmudgeon, but with not a smidge more sentiment than needed, Rabbit Cake is an instant classic that you could confidently give as a gift to any reader.

— Jeff Vandermeer, author of BORNE

In my mind, it's damn near impossible to overstate the joys, the subtlety, and the brilliance of Rabbit Cake.

— Gabriel Tallent, New York Times bestselling author of MY ABSOLUTE DARLING

Hartnett has written a quirky, slightly magical coming-of-age story that will have your heart. She is a writer to watch.

— Heidi Durrow, New York Times bestselling author of The Girl Who Fell From the Sky

Heartbreak and dark comedy fuse together in this endearing story of family dysfunction and loss. I cheered for young Elvis Babbitt and the entire cast of quirky characters as they stumbled along a twisted path toward healing.

— Beth Hoffman, New York Times bestselling author of Saving CeeCee Honeycutt and Looking for Me

Annie Hartnett's Rabbit Cake is fantastically original, a story about loss that expands in such exciting, unpredictable ways that I found myself completely won over by the unique Babbitt clan. Hartnett has such a gift for absurdity without ever losing the essential heart of the story. With this novel, she's become one of my favorite writers.

— Kevin Wilson, New York Times bestselling author of The Family Fang

What makes this book shine is that [Elvis] is both completely believable as a child [and] a compelling narrator. The reader feels her grief, her curious hunger for the world, and also her disbelief that a world so abundant in wonder could take her mother away.
— Book Riot, Best Books of 2017

12-year-old Elvis is a captivating character and the fantastically absorbing narrator of this stunning debut novel.
— Read It Forward

Readers will laugh and cry in turn at this touching novel about a little girl with a big heart.

— Bookish, Best Books of Spring

Fun emanates from virtually every element of [Rabbit Cake's] craft—its particular narratorial voice, crackling dialogue, vibrant cast of characters, vivid and unexpected imagery, absurdist moments, and plot that bounces along like its titular animal but still finds room for quiet contemplation.

— Redivider

Darkly funny and endlessly smart, Rabbit Cake chases down the quivering heart of familial loss and reminds us there is no right way to grieve. There's only showing up for it, and showing up for each other.

— Ploughshares, "Must-Reads for 2017"

The most enjoyable novel I've read since Mr. Penumbra's 24-Hour Bookstore!

— Pete Mock, McIntyre's Books

…funny, smart, surprising, heartbreaking…

— Susan Hans O'Connor, Penguin Bookshop

A delightfully original story in what is sure to be a beloved favorite of readers everywhere. 

— Kris Kleindienst, Left Bank Books

I hugged this book to my chest many times while reading it; that's how much I love it. Rabbit Cake is a sweet (and occasionally melancholic) tale of intrigue, full of heart, and with a lovable cast of characters. . . . An inimitable novel about grief, family, and the uncertainty that follows death, Rabbit Cake is a stunning debut of what will surely be a long and lustrous career for author Annie Hartnett.

— Rachel Kaplan, Avid Bookshop

In the Babbitt house bustling like a rabbit hutch, you'll find a cast of characters you simply will not forget: a sleep-eating sister and sleep-swimming mother, a father exploring femininity, a parental parrot, and a daughter named after Elvis Presley. By attempting to understand herself, Elvis frames her life in beautiful juxtapositions, her then-life with mom and now-life without her running deep and parallel. Honest with youth and grief, Elvis looks hard at what makes us human, perfectly mixing whimsy and absurdity. She exists at the intersection of science and wonder, willing to live in the face of death. Rabbit Cake is a cause for celebration.

— Amanda Ibarra, Flyleaf Books

Rabbit Cake by Annie Hartnett is a bookseller's dream of a novel—a smart, funny, thrilling ride alongside uniquely-drawn characters through a landscape at once familiar and refreshingly new. This is a gorgeous debut novel, bursting with empathy and spectacular talent, that I will happily press into the hands of customers. Like any fan of Ann Patchett will tell you, booksellers do it best, and Annie Hartnett, once a bookseller, always a bookseller, is further evidence of that.

— Mary Cotton, Newtonville Books

Rabbit Cake bursts with life, at once heartbreaking and heartwarming. Annie has written rich characters who walk off the page, bending, changing, and growing as time moves them past the tragedy of their mother's death. We get to see the world through a wholly individual little girl named Elvis only the way a child can see the world—innocent, fresh and open. The strangeness of this story (think rabbit shaped cake obsessions and Jesus statues made out of sea shells) rings so true because of Annie's grasp of the complicated balance of what makes characters human. The pages turn themselves, and what a delight it was to keep up. Wonderful!

— Courtney Flynn, Trident

Grief observed, explained, suffered and experienced by an eleven year-old girl…a very touching coming of age story. 

— Darwin Ellis, Books on the Common